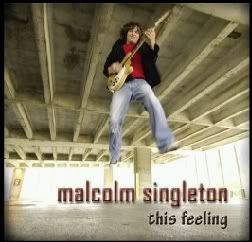 September 23, 2007
For Immediate Release:
MUSCLE SHOALS NATIVE, MALCOLM SINGLETON, RETURNS TO GOOGIE'S LOUNGE OVER THE LIVING ROOM THIS THURSDAY, SEPTEMBER 27.
MUSCLE SHOALS, ALA. – Back in August, Malcolm Singleton made his debut appearance before a standing room only crowd in New York City at Googie's Lounge Over the Living Room. On Thursday September 27 at 7:30 p.m., Malcolm will return to Googie's to perform.
Malcolm has created buzz about his music in the City since his first trip to New York. Average Joe Radio, an Internet/New York based radio show and podcast, has featured Malcolm's songs and most recently, dedicated an entire show (#42) to Malcolm. His airing on Average Joe Radio has sparked interest from other Internet shows, who are now promoting his upcoming Googie's show or rotating his songs in their shows. In addition to being featured on Internet radio shows, he has been in the studio putting finishing touches on several songs that will be featured on his upcoming CD to be released later this year or early in '08.
Not only will Malcolm perform this week, but he and his producers Eddie Martin and Daniel Beard also will hold several meetings with key industry representatives in New York.
"We are thrilled with the buzz that has been created in New York about Malcolm and his songs," said Eddie Martin, co-writer and producer. "We are looking forward to another outstanding performance and standing room only crowd at Googie's."
Malcolm's music is recorded on the independent label, TRI-OOMPH Entertainment. You can listen to song clips from his EP This Feeling at www.myspace.com/malcolmsingleton. For more information contact: Kara Kennedy, Publicist, (205) 370-1677.
Kara Kennedy
President
Kennedy Resource Development
Phone: (205) 370-1677
kara_kennedy@kennedyresourcedevelopment.com
www.kennedyresourcedevelopment.com